Adnan Shares Training Tips with GEARS
I recently shared some endurance training advice with the Greater Eugene Area Riders club. Check it out right here: https://youtu.be/gx6xWytS7Ew ...
READ MORE »
Miller Makes First Cross Crusade Podium
AES Athlete Mark Miller rode to a 3rd place finish at the Cascade Locks round of the 2017 Cyclocross Crusade. The solid result is Mark's first CX podium and marks a great transition to cyclocross from his summer peak at BC Bike Race in Canada.
READ MORE »
Kennedy's Great Weekend in The Gorge
AES Athlete Ann Kennedy of the BicycleAttorney.com Cycling Team had a nice pair of races in Oregon last weekend. The annual Gorge Roubaix brings out Oregon, Washington, and California's gravel road enthusiasts for a day of old-school road racing near Hood...
READ MORE »
Kennedy takes Zaaldercross / Serrat succeeds at Fool's Gold
This past Saturday, AES athlete Ann Kennedy consolidated a strong start to her season by winning Zaaldercross (part of the GPBR Series) in nearby Vancouver, Washington. The win puts her 3rd in her class with two events yet to run. Here's a pho...
READ MORE »
Elle Anderson Season Review
I recently wrote a little article for Quarq detailing Elle Anderson's successful 2015/2016 cyclocross season. Check it out on the Quarq website: http://blog.quarq.com/post/138937762976/elle-anderson-season-review-and-power-analysis...
READ MORE »
Podium Weekend For Serrat and Anderson
AES mountain bike racer Ed Serrat finished his season on a high at The Iceman Cometh in his home state of Michigan. Ed had been targeting Iceman and had an excellent race against a stellar field. Ed's season has been fantastic and we're lookin...
READ MORE »
Serrat hits target at High Cascades 100
AES athlete Ed Serrat rode to an excellent 14th place finish in his first High Cascades 100. It was his first time riding in Bend and the trails seemed well-suited to his talents. His Vets Men time of 9.27 would have placed him in the top-20 o...
READ MORE »
Team AES-Cable Huston in Portland Monthly Magazine
The sport of cyclocross, and team Aeolus Endurance Sport-Cable Huston, was recently profiled in a Portland Monthly Magazine feature entitled "Break a Sweat Like Portland's Top Athletes." Check it out! http://www.portlandmonthly...
READ MORE »
AboutFace Magazine Interview
I was recently interviewed in a local magazine. We spoke about coaching and, of course, VeloPro. Here's the article: http://www.aboutfacemag.com/interviews/health/adnan-kadir-cyclist-trainer/...
READ MORE »
Serrat and Kennedy Podium at IceMan and OBRA CX Champs
AES athlete Ed Serrat had a great race at Michigan's Iceman Cometh. Ed had spent the autumn preparing for his season finale here, and he finished it well in 3rd place. Here are the nasty conditions the race saw this year:
READ MORE »
Over the top radio Velopro interview #2
George Thomas had myself, along with VeloPro beta testers Jeff S and Monty H on the show to take last week's interview a bit further into the user experience realm: Check Out Fitness Podcasts at Blog Talk Radio with
READ MORE »
Over The Top Radio interview about Velopro
Check out this great interview from George Thomas of Over The Top Radio. We discuss my VeloPro project in detail: Check Out Fitness Podcasts at Blog Talk Radio with overthetop on BlogTalkRadio...
READ MORE »
Santiago takes Iron Horse Classic
AES athlete Maria Santiago won the Iron Horse Classic this weekend. Maria took two stage wins en route to a convincing victory. Read more about it here: http://www.durangoherald.com/article/20140526/SPORTS01/140529643/Santiago-survives-%E2%80%...
READ MORE »
Chicks on Bikes Radio–Farewell Show
One of my favorite bike-related radio shows, Chicks on Bikes Radio, has gone off the air. I was one of many guests on the final show. Have a listen right here: Current Lifestyle Podcasts at Blog Talk Radio with
READ MORE »
AES/CH Rider Gardner wins OBRA Road Championship
Last Sunday, Aeolus Endurance Sport/Cable Huston rider and editor of RaceCenterNW Magazine, Brook Gardner won the OBRA Road Championships in his category. Held as part of the High Desert Omnium, the race took place near Bend, OR. Brook suffered from...
READ MORE »
Chicks on bikes radio–Girl Parts/Bike Parts
This month I had the pleasure of co-hosting another great edition of Chicks On Bikes Radio. We talked about fit issues related to women and interviewed five great guests: John Cobb of Cobb Cycling – fitment and aerodynamics legend Annie B. of SheV...
READ MORE »
Marin Camp 2013 a great success!
It was a great year for Marin Camp, with a fabulous group, excellent weather, and a new assistant coach. The following companies provided super support: LifeCycle Adventures – water bottles, spares and second vehicle Corsa Concepts – demonstration...
READ MORE »
Chicks on bikes radio Lit edition–part 2
Today I again co-hosted Chicks on Bike Radio. April and I spoke with Kelli Refer, the author of Pedal, Stretch, Breathe: The Yoga of Bicycling, and Susan Meyers, who wrote The Hamster Ride & 25 Other Short Biking Stories. We had a great co...
READ MORE »
More Radio! I co-host Chicks on Bikes Literature edition
READ MORE »
Radio Interview–Chicks on Bikes Radio
Today I had the pleasure of speaking with April Lemly of Chicks On Bikes Radio. We chatted about coaching, women's cycling and camps:READ MORE »
Radio Interview – Over the Top Radio
I was recently interviewed by George Thomas of Over The Top Radio. We talked about how I got into coaching, how I work, Marin and Italy Cycling Camps, and where we're headed:READ MORE »
Athlete Profile – Starla Teddergreen
Women's racing is experiencing a huge boom and one rider that has long been at the forefront of it is Starla Teddergreen. Starla began her racing career on the streets as a bike messenger in Seattle before moving to San Francisco in 2003. Known for...
READ MORE »
Park me at Barton
Barton Park is always a fun day out. Despite (or, perhaps because of) being held in a gravel pit and adjoining county park, the venue offers a host of challenges for cyclocross racers. There is deep mud, shallow mud, gravel, pavement, puddles ...
READ MORE »
Fangs
Oh yes, it's cyclocross season alright. Today we raced the seventh round of the GPTB in Washington, just over the Columbia River from Portland. While it was relatively dry and dusty for the Cross Crusade in Bend, it was cold, rainy, and muddy ...
READ MORE »
Revenge of the Mud
It is no exaggeration to say that last week, here in Oregon, summer came to an abrupt end and winter arrived. One day it was in the 70s and sunny and the next it was in the 50s and raining. It's still raining, only now it is even colder. This ...
READ MORE »
Battle (the dust) at Barlow
"It is not so difficult. Go flat-out before the corner and then go flat-out again." -Tommi Mäkinen, four-time World Rally Champion Today I raced the Battle at Barlow, a traditional course east of Portland on the grounds of a high school. The c...
READ MORE »
Sand
Today we raced in the sand. Not far from the scene of Het Meer a couple of weeks ago, Zandercross took place in Vancouver, WA. It's part of a burgeoning series I like to call Couve Cross. Happily, it was a benefit for the excellen...
READ MORE »
Adnan and AES in the Wall Street Journal!
This week the Wall Street Journal did a segment for print and video on cycling "tribes." I was asked to describe the "roadie," and here is how it went: It's a bit ironic, as I'm not really just a roadie, but cyclists like to label each other and th...
READ MORE »
Data Analysis - Marathon MTB Nationals 2012
I have had a day or two to digest what happened last Saturday and I've finally had a chance to sit down and look at my data file as well. It was a day where everything came together just right: The start was fast, but not too fast. The ...
READ MORE »
2012 USAC MTB Marathon Nationals
I came to Bend not expecting too much from myself. I haven't been myself lately, and my anxiety level has been really high. It's tough to concentrate like that, and for a 4+ hour race, it's a tall order to do so. In addition to all that,...
READ MORE »
US MTB Marathon Nationals Course recce
First, a public service announcement: If you would like to follow me on Twitter, you can do so at: @adnankadir Second, do me a big favor and like Aeolus Endurance Sport on Facebook: http://www.facebook.com/AeolusEnduranceSport Now, back to our regularly s...
READ MORE »
The Lake
Today I raced my first cyclocross race of this season, the TBGP Het Meer race in Vancouver, WA. I made a day of it by riding out there, doing the race, and then riding home again. It was a cool, overcast day and perfect for cross (unless yo...
READ MORE »
Peariso Takes Ore to Shore. Again!
Chris Peariso took his 6th win at the Copper Harbor Trails Festival last Sunday. There is a great article about it in the local paper: http://www.mininggazette.com/page/content.detail/id/526636/Still-top-of-the-trails--Peariso-prevails-as-Tr...
READ MORE »
Chris Peariso interviewed on cyclingdirt.org
AES Pro MTB Racer Chris gives us the scoop on his excellent 4th place at the Mohican 100: Watch more video of Mohican 100 2012 on cyclingdirt.org...
READ MORE »
Peariso Takes 4th at Mohican 100
AES athlete and pro mountain bike racer Chris Peariso scored his first big result of the season with a solid 4th place in last weekend's Mohican 100, round three of the 2012 NUE Series. The full interview on Cyclingnews.com is right here: http://www...
READ MORE »
Reither makes it 2 wins so far in 2012!
AES athlete and Vanderkitten Pro road racer Jenn Reither took her 2nd win of the season last weekend at the Missouri Professional Cycling Series Dutchtown Classic. Jenn's aggressive riding style paid off in spades when she rode to a 27-second victor...
READ MORE »
Miller always on the podium in 2012
This past weekend Mark Miller scored his third top-3 finish of the Oregon XC Series. So far, he's placed 2nd at Bear Springs and has won at the Coast Hills Classic. Last weekend, he added another 2nd place at the Chainbreaker Classic. Ni...
READ MORE »
Photos from Marin Camp 2012
Thanks to all who participated in what turned out to be a fun and very productive training camp. Thanks also to our excellent supporters: Cyfac Bicycles, Quarq Powermeters, Corsa Concepts wheels, Kate's Real Food, Strava,
READ MORE »
Marin Camp! It's back!
The 2012 AES Marin Camp is underway and it's already been a great one. We've made a huge improvement with professional mechanical and on-road support from SRAM. Jeb Stewart is my excellent co-coach and he's keeping a nice diary of the event: h...
READ MORE »
Food for Athletes on Culinate.com
Culinate.com just published a nice piece about diets for athletes. It's more of an exploration of the eating habits of endurance athletes than a guide. I have a few things to say on the subject, too. Check it all out right here....
READ MORE »
AES Triathletes Take Team Bronze Medal at Pacific Games!
AES athletes and Guam National Triathlon Team Members Chiyo and Peter Lombard, along with compatriot Mark Walters took home the team bronze medal in New Caledonia yesterday at the 2011 Pacific Games. In addition, Chiyo Lombard set the fastest women'...
READ MORE »
VK Take podiums and a win over the weekend
A united Vanderkitten team took home some excellent results last weekend. AES athlete Jenn Reither and teammate Jazzy Hurikino achieved podium places on Saturday at the Strawberry Crown Criterium, finishing 5th and 3rd, respectively:
READ MORE »
Chiyo Lombard takes top-10 finish at TinMan
Guam national team member and Aeolus Endurance Sport athlete Chiyo Lombard overcame a nagging season-long knee injury to take an excellent 3rd in her age group at Hawaii's TinMan Triathlon last weekend. Her time netted her a 10th place overall and s...
READ MORE »
Peter Lombard - Guam National Champion!
Last weekend saw a fantastic result from AES athlete and Guam National Triathlon Team member Peter Lombard. After working his way back to fitness from a debilitating hamstring injury, Peter won his country's national championship triathlon. Th...
READ MORE »
Excellent Weekend for AES Athletes!
The 2011 season is well underway now and the results are pouring in. Two of my best Pro MTB racers have switched their focus to ultra endurance racing this year and this weekend their hard work paid off at the Lumberjack 100. Jane Pearson made...
READ MORE »
Szen completes first Ironman in Texas
This past weekend marked a great moment for AES athlete Brandi Szen. A veteran of several half-Ironman events, Brandi wanted to step up to the full distance this year. She chose the Ironman Texas and finished in style, complete with Texa...
READ MORE »
Pearson wins at Stewart Super Six Pack!
After a solid podium-filled start to 2011, Jane Pearson reached the top step a the Stewart Six Pack endurance race yesterday. She's been focused on endurance events this year after several highly successful seasons of XC. Jane often finds hers...
READ MORE »
Pearson 3rd at Michaux
AES Pro mountain bike racer Jane Pearson opened her endurance account last weekend with a solid 3rd place at the Michaux Maximus endurance race. Jane's focus this year has moved from XC to endurance and so far she has one win and one podium. N...
READ MORE »
Marin Camp 2011 Wrap up
This year's Marin Camp is done and I'm already looking forward to next year. The weather played a big role and forced some schedule changes, but the staff and the Retreat handled it all wonderfully. Thanks to all of the supporters o...
READ MORE »
Marin Camp 2011 Day 4
Today we took the decision to ride what we normally do on the final day - the Marshall Loop - in the hope of avoiding the cold soaking forecast for Saturday. We mostly managed that, and ended up having a great day out. More than 6 hou...
READ MORE »
Marin Camp 2011 Day 3
Great photos of days 1 and 2: http://www.flickr.com/photos/61045911@N08/sets/72157626217167605/ http://www.flickr.com/photos/61045911@N08/sets/72157626218892679/ Tha...
READ MORE »
Marin Camp 2011 Day 2
Day 2! We lucked out with the weather on Sprint Day and actually got some nice work done in the Marin Headlands before heading around Paradise Loop for some bonus mileage. Here are some photos from the day:
READ MORE »
Marin Camp 2011 Day 1
It snuck up on me, but Marin Camp started with the biggest group ever! After breakfast, we distributed some goodies from Camp supporters before Jeb gave a fantastic presentation on mental skills training and goal setting. A total of 16 riders...
READ MORE »
Long Days at the OTC and Podiums in Guam
I've spent the last five days in Colorado Springs at the US Olympic Training Center. I come here every few years to the bi-annual USAC Coaching Summit, but this time the mission was different. I'm eligible to take my exam for Level 1 Certifica...
READ MORE »
Thoughts on Guam from a (relatively) chilly place
I've just finished another beautiful day of cross country skiing near Mt Hood. It's incredibly scenic up there, but it's a long way from the clear waters and sandy beaches of Guam and Saipan. I must admit - I miss the islands. ...
READ MORE »
HOM Story from the official site
The official website of the Hell of the Marianas has published a story on the race. The description of the race is not exactly how it went down, but it is still an entertaining read: http://www.hell-of-the-marianas.com/index.php?page=results&...
READ MORE »
Hell of the Marianas on Russian TV
Here is some Russian TV coverage of the Hell of the Marianas. Naturally, it's in Russian, but they put in some nice race coverage: http://www.facebook.com/video/video.php?v=182809688401362&oid=136937806337603 I'll embed the vi...
READ MORE »
More photos from Guam and Saipan
Here are a few more photos from the week and the events surrounding the race: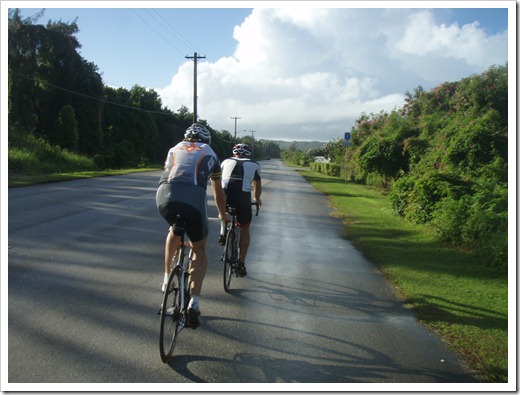 READ MORE »
Sand in My Chamois - the 4th annual Hell of the Marianas
What a day. Between the 90 degree sun, rain showers, international field, and slick descents, the HOM was bound to be interesting. The race started bright (well, dark, actually) and early at 6.15am and the attacks began almost immediately.&...
READ MORE »
Couse Recce
Today was the classic day-before-the-race day. We awoke early to pouring rain and no coffee. No coffee! Once I got over that, we packed up the cars (or the Expedition and Explorer that pass for cars these days) and drove to the top of R...
READ MORE »
Saipan Shakedown
We've just landed on the small island of Saipan where, on Saturday, HOM will take place. I thought that Guam was laid back, but Saipan has set a whole new standard for that. The people here are the most laid back I have ever seen. ...
READ MORE »
Island Lifestyle
Guam is not what I expected. When I first found out I was to come here to race the Hell of the Marianas, I envisioned a flat, hot jungle with little culture and a lot of people in camouflage running around (Guam is home to US Air Force and Navy b...
READ MORE »
Imminent Departure
In just over a day, I'll be heading to Guam and Saipan for some sunshine and the Hell of the Marianas. It's been cold and grey here, making the last bit of solid training I needed to do more difficult and slightly more dangerous. In...
READ MORE »
LittleBigRide raises over $60,000 for Big Brothers Big Sisters of Guam
Today BBBS of Guam was presented with a check reflecting the excellent fundraising Joseph accomplished on his LittleBigRide last month. The local paper covered it right here: http://www.guampdn.com/article/20101114/NEWS01/11140308 A...
READ MORE »
Tomorrow is the day
Tomorrow is the day that the Beacon Foundation matches any contributions you make to Big Brothers Big Sisters . Make your donation right here: http://www.littlebigride.org/donate.php. Preparations for Guam and the Hell of the Marian...
READ MORE »
The Hell of the Marianas
It is not often that I get an offer to race my bike in a warm, sunny place in December, but recently just such an offer came my way. In a few weeks time, I will fly to Guam and Saipan for the 4th edition of the annual Hell of the Marianas race.&n...
READ MORE »
Bishop makes top-5 in Bishop!
This year has been a long road back for AES Triathlete Margaret Bishop. Having begun the year in recovery from knee surgery, Margret had no idea how her knee would react to training. With a measured, precise, year-long plan, she was able to no...
READ MORE »
Support Joseph's LittleBigRide Across America
This month, AES athlete Joseph Husslein is riding his bike across the country. Joseph wanted this ride to be more meaningful than simply fulfilling his long-held dream to ride cross-country, so he created the LittleBigRide. Thus, his ride will...
READ MORE »
Reither on the Podium at Elite Track Nationals
Last week in Los Angeles, AES athlete Jennifer Reither scored an excellent 5th place in the Madison with her partner Kate Wilson, despite a serious crash that still has her off the bike. You can read more about the event here....
READ MORE »
Peariso Pair Punch it at Copper Harbor Fat Tire Festival
Chris Peariso continued his excellent build towards Chequamegon with a decisive win this weekend at the Copper Harbor Fat Tire Festival. His wife Michelle took the Women's race as well, making it a great weekend for them. Read more about it in...
READ MORE »
More Summer Success for AES Athletes
The last few weeks have been great ones for Aeolus Endurance Sport athletes. The results have been coming in fast in a variety of events and disciplines. Here is the latest: At the OBRA Criterium Championships, Flo Liebowitz rode to a solid wi...
READ MORE »
Oregon AES Athletes Excel at OBRA Road Race
Steven Hunter and Susan Peithman each had great days at last Saturday's OBRA Road Race, held, somewhat ironically, in Trout Lake, Washington. Susan followed the race plan precisely, but wasn't able, despite making it into the winning break and launc...
READ MORE »
Miller and Pearson win again!
It's been a great couple of weeks for AES athletes Mark Miller and Jane Pearson. Mark won what is considered an Oregon classic MTB race - Pickett's Charge - and clinched a fine 2nd place in the series. Jane has also been on a tear and just stepped u...
READ MORE »
Reither takes 2nd at TVC
Jenn Reither got onto her track bike and promptly took 2nd in the Women's Points Race at the Testarossa Velodrome Challenge at Hellyer Park in San Jose, CA. Jenn's coming into top form after weeks of road racing in Athens and Tulsa, and she hasn't b...
READ MORE »
Miller takes another at Jedi
AES athlete Mark Miller improved on his recent second place at Spring Thaw by winning the Return on the Jedi in Grant's Pass today. Mark has been on a roll lately, despite a round of personal and work-related travel. He's becoming an expert at...
READ MORE »
Miller takes his first MTB win at Cascade Chainbreaker!
AES athlete Mark Miller came back to bike racing three years ago after nearly twenty years away from the sport. His focus has been on MTB racing and he has been knocking on the door this year with one 4th place and two 2nd places. Today his co...
READ MORE »
Jane Pearson smokes Spring Cleaning!
Pro mountain bike racer and AES athlete Jane Pearson has been tearing it up this season, despite having to train through a rough East Coast winter. Yesterday she dusted the competition at the Wawayanda Spring Cleaning Mountain Bike Race in New Jerse...
READ MORE »
AES Athlete Chris Peariso 2nd at Cohutta 100!
Pro Mountain Bike racer and AES athlete Chris Peariso scored his first Pro podium placing today in the Cohutta 100, the first stop on the National Ultra Endurance Series calendar. Chris worked hard through a difficult Wisconsin winter and had target...
READ MORE »
Portraits from camp 2010
A few choice photos from this year's camp:
READ MORE »
Marin Camp 2010 Day 4
This was a day without any particular assignments - ride as you like, and keep in mind that the biggest day is tomorrow. We did the Alpine Dam loop with a nice out-and-back to the top of Mt. Tam. There was some hammering, some cruising and ...
READ MORE »
Marin Camp 2010 Day 3
Day 3 at Marin Camp is always a big one. It's the day we 'race'— the Mt Tam Hill climb course, and it is the day the riders really have to dig deep to find the best in themselves. For two days, they have been doing shorter...
READ MORE »
Marin Camp 2010 Day 2
Another day dawned clear and bright and, following an excellent discussion on nutrition, the camp, with guest Jenn Reither, headed off to the Marin Headlands for what is for many the toughest day of camp - sprint, lead-out, and race finish scenario day...
READ MORE »
Marin Camp 2010 Day 1
What a beginning! Under clear, warm skies, we departed for an excellent introduction to some of Marin's best riding. After an excellent first day's discussion on goal setting and mental training, we did 5 min and 1 min tests while t...
READ MORE »
Marin Camp 2010 Day 0
It's not an 'official' camp day, but it always ends up being a fun one. The day before camp is when nearly everyone arrives, all the preparation is about finished, and we can go for a ride. This afternoon, about 3/4 of the camp ...
READ MORE »
Getting Ready for Camp
It officially starts the day after tomorrow and Jeb Stewart and I are here in Marin County getting ready for what is shaping up to be the best-ever Marin Training Camp. On Friday, we stayed with friends in the East Bay and took in some sublime Ca...
READ MORE »
Another way to give back
For most of us, cycling is not just a hobby, but a lifestyle. We use our bikes in our daily activities, whether it be shopping, running errands, or just going out to dinner with friends. People For Bikes are, in their own words, "an in...
READ MORE »
Marin Camp filling up!
Marin Camp 2010 is filling fast! There are less than three weeks to go, so if you are interested let me know now. It's looking like the best Marin Camp yet, and I can't wait!...
READ MORE »
Check out my new website!
After six great years with Peaks Coaching Group, I have decided to create my own coaching practice. There are a whole host of exciting new events which I will detail here in the months ahead. Stay tuned!...
READ MORE »