AES/CH Rider Gardner wins OBRA Road Championship
Last Sunday, Aeolus Endurance Sport/Cable Huston rider and editor of RaceCenterNW Magazine, Brook Gardner won the OBRA Road Championships in his category. Held as part of the High Desert Omnium, the race took place near Bend, OR.
Brook suffered from cramp in the latter stages of the race, but recovered in time and had this to say:
"Before I knew it we were passing the 1k to go sign and the attacks started. One rider jumped the field and the eventual second place finisher tried (hard) to bridge, but seemed to be having problems making the junction. I decided that this was the move I wanted to follow. I bridged to the second rider on the road (about 10 meters ahead of the field), sat in his draft for about 5 seconds, then went wide left around him to try and get onto the lead rider's wheel. I made it as planned, but then I could see the lead rider's speed falling so I went around him and found myself at the front just before we passed the 250m to go sign. I decided that this was my opportunity. I shifted to a big gear and started my acceleration. I was moving and the field was shattering behind me. I grabbed a bigger gear and kept accelerating."
That plan proved to be the right one, with the win not only netting him the title of OBRA Champion, but also the overall title in the High Desert Omnium.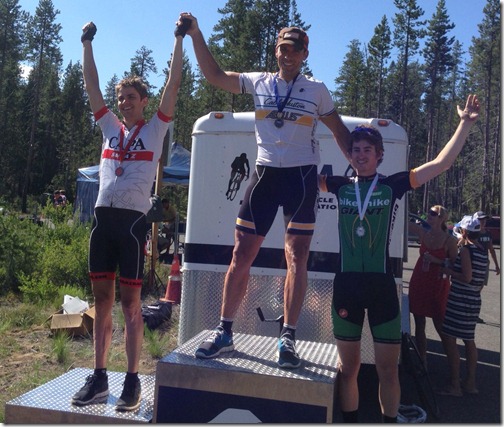 Brook on the top step of the podium