Athlete Profile – Starla Teddergreen
Women's racing is experiencing a huge boom and one rider that has long been at the forefront of it is Starla Teddergreen.
Starla began her racing career on the streets as a bike messenger in Seattle before moving to San Francisco in 2003. Known for her sprinting prowess, she worked her way up the ranks and in 2010 joined the women's professional team Vanderkitten.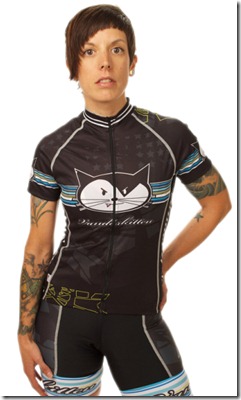 Starla strikes a pose
The road to pro cycling wasn't easy for Starla. Growing up in a quiet northeast Washington town, she had virtually no opportunities for racing (besides the ones her somewhat disinterested sister occasionally provided). She soon found competitive outlets in running and soccer, but it was her move to Seattle after high school that changed everything.
With no experience, but with a load of her trademark enthusiasm, Starla found a job as a bike courier. Two wheels suited her well, and the excitement of the job led her to to explore Seattle's alleycat racing scene and, eventually, to the Cycle Messenger World Championships.
A move to San Francisco in 2003 introduced her to road racing and planted the seed for her future as a pro athlete. With her knack for reading a race and a fantastic sprint, Starla quickly moved up the amateur ranks, landing on the elite SugarCRM team for 2009. This led to her debut in the NRC Series as well as to a month of kermesse racing in Belgium, where she was able to sneak into the top 10 in what is known as some of the world's toughest racing.
2010 brought with it mixed fortunes. Starla began to mature as a rider, landing a spot on the Vanderkitten Professional team. A solid entry to the NRC Series was cut short when she ended up at the bottom of a huge finishing crash at the Tour de Nez. The hip injury that resulted was to plague Starla throughout the 2011 season. This didn't stop her taking home a few wins, but by autumn it became clear that, without intervention, the injury was not going to get sorted out.
In the winter of 2011, it was determined that Starla had a torn labrum and that surgery and a long rehabilitation period were required. This is where Starla's maturity really shone. Instead of trying to rush her rehab and bike training program as so many athletes do, she showed the patience and dedication of a real professional and by April was back on the bike. It took the better part of 2012 to be able to train and race without pain. During her recovery, she was able to indulge her enthusiasm for supporting women's racing by riding as a team mentor for the Early Bird Women's Developmental Team.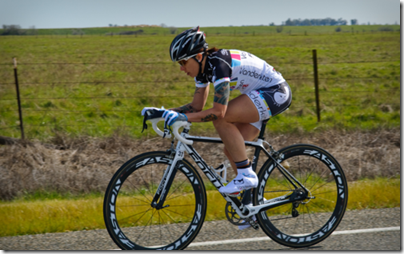 Starla digging deep
With the 2012 comeback season under her belt, Starla has high hopes and solid goals in 2013. In her own words, she wants to "win races and/or a race series, support a GC rider to victory, and stand out to be a rider with potential to race successfully in Europe again."
Find out more about Starla here:
and her graphic design and bike fitment work here:
http://starladesign.com/ and here: http://teddergreen.com