Battle (the dust) at Barlow
"It is not so difficult. Go flat-out before the corner and then go flat-out again."
-Tommi Mäkinen, four-time World Rally Champion
Today I raced the Battle at Barlow, a traditional course east of Portland on the grounds of a high school. The course was dry and dusty, consisting of some open, although bumpy, grass sections, one bit of asphalt, and a few twisty singletrack climbs. The centerpiece of the course was a two-barrier descending dismount, followed by a steep run-down, a wooden bridge, and then a series of tall railroad ties as a run-up. Confused? So was I when I hit it at full speed.
I started several rows back, due somewhat to bad luck, but mostly to laziness. This was a mistake. On such a fast, twisty course, it would prove very difficult to make up time on those ahead, even once I found my rhythm. The race started fast and within 30 seconds I was at my LTHR. Today would prove to be another data anomaly as was able to maintain a 181bpm average for the entire hour. Again, I was able to maintain a higher-than-normal average for a couple of reasons:
It was warm again, and this always elevates HR slightly at a given effort, and,
I was very fresh, having done very little riding in the previous week in order to try to fully recover from a pulled muscle in my left leg.
So, although I didn't feel like I was on a great day, I can see from my data graph that I was able to pace myself well and do a very good effort: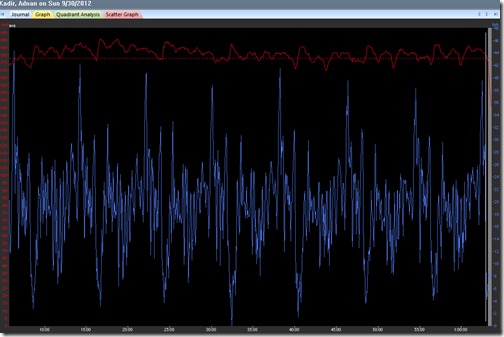 Battle at Barlow CX: Red is Heart Rate data, blue is speed data. The dashed red line is at 178bpm. Click the image to magnify.
A dropped chain on the third time up the railroad ties cost me about 7 places. I think I managed to get a couple of those spots back, but I never saw the other guys. This guaranteed that I would be out of the top 10 on the day. One pays dearly for small mistakes in cyclocross.
It wasn't the greatest race ever, but I made the best of it and managed to learn a few lessons along the way. I also had the mid-race pleasure of seeing the always-friendly Ira Ryan and that awesome smile. He looked so happy to be racing his bike.
Next up: Heiser Farm CX and the Cross Crusade opener.
Photo updates here as they happen: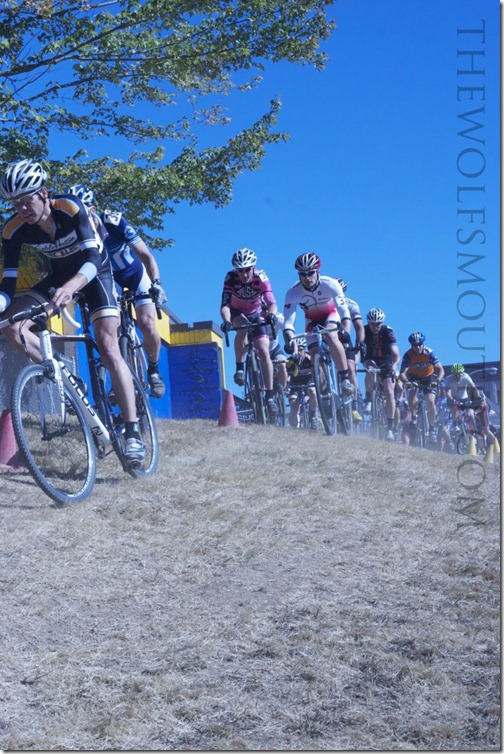 Comin' in (sorta) hot
Leading a small bunch around one of the asphalt corners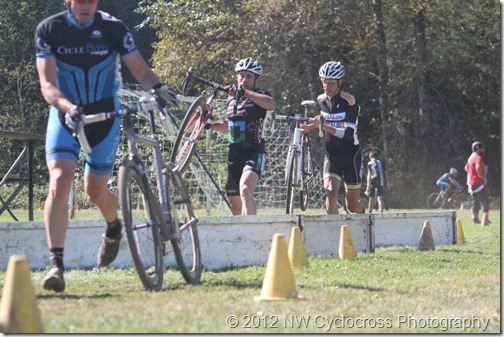 Over the triple barriers