Excellent Weekend for AES Athletes!
The 2011 season is well underway now and the results are pouring in. Two of my best Pro MTB racers have switched their focus to ultra endurance racing this year and this weekend their hard work paid off at the Lumberjack 100. Jane Pearson made the long drive to Michigan from NYC and it paid off with a nice 5th place while Chris Peariso had a solid race and finished 8th in a top-ranked field.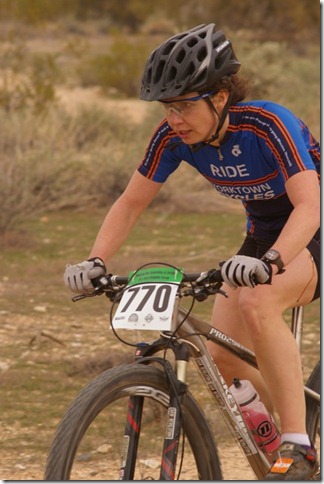 Jane Pearson on her way to winning in Arizona earlier this year
Closer to home, the Test of Endurance 50 saw top 55+ MTB racer Mark Miller take a sweet 2nd place. Mark is steadily climbing to the top step of the podium this year, so it's only a matter of time before he is there!
In road racing, California Vanderkitten-Focus rider Starla Teddergreen is off at the Tour of America's Dairyland in Wisconsin showing the country's best a clean pair of wheels. Today she took the field sprint for 4th on the stage, moved up 5 places in the overall and is tied for first in the best amateur classification. Since a horrific accident at last year's Tour de Nez, Starla has made an excellent recovery.
On his way to recovering from a serious hamstring injury this spring, Peter Lombard of the Guam National Triathlon Team took the win in the No Frills Dual Distance #3 Olympic Tri today. Peter is targeting the Pacific Games in September and it looks like he is coming around right on time.
All of these athletes have shown exceptional focus and dedication this year and now it is beginning to pay off!