Saipan Shakedown
We've just landed on the small island of Saipan where, on Saturday, HOM will take place. I thought that Guam was laid back, but Saipan has set a whole new standard for that. The people here are the most laid back I have ever seen. Less developed, more isolated and much smaller, Guam's northern cousin is the capital of the Commonwealth of the Northern Mariana Islands. Saipan saw a lot of action during the Second World War, and there is evidence of that wherever you go. There are abandoned gun emplacements and bunkers everywhere.
Today's shakedown ride took us along the first 12km and the final 7km of the race course. The first climb is preceded by several roadworks with rough hardpack coral gravel as the main feature. Happily, these sections aren't too long, with the longest at about 300 meters. The climb itself is smooth and steady, but I wouldn't be surprised if we see an early shakeout here.
Tomorrow we recce the course's biggest climbs and descents. The descents are of particular importance as the forecast calls for rain and when that happens, the roads become slick and treacherous. The local asphalt of choice includes a lot of coral, and coral becomes slippery when wet. Although I am all for using local ingredients where possible, I doubt the civil planners were thinking about bikes and motorcycles when they designed the roads here. We'll check it all out tomorrow, though, and I will see how it goes.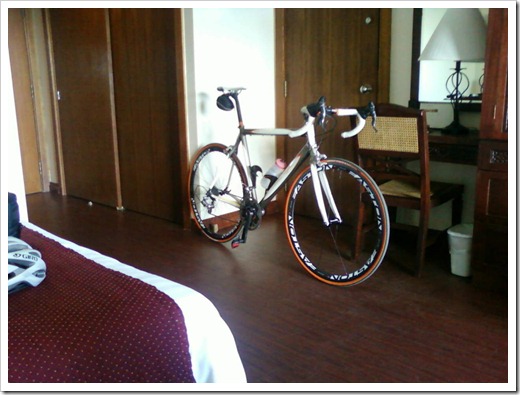 Bike in nice hotel room