Sand
Today we raced in the sand. Not far from the scene of Het Meer a couple of weeks ago, Zandercross took place in Vancouver, WA. It's part of a burgeoning series I like to call Couve Cross. Happily, it was a benefit for the excellent non-profit P:ear.
The promoter decided that the main feature of today's race would be sand, and its waterfront venue provided plenty of the loose, deep, and soft stuff. In addition to a few barriers, there were two (for some people three) long running sections in the sand. There were a few steep banks, but all could be ridden if one took the right line.
I pulled a muscle in my left leg last week at Marathon Nationals, and the all the running today only served to irritate it even more. It made running and dismounts painful, but I don't think it really slowed me down. The data show a decent pace, even if the start was a bit harder than I would have preferred:

Zandercross.
Red is Heart Rate, blue is speed, and orange is elevation data.
My LTHR is 178bpm, but today I was able to average 180bpm for the hour-long race. This is possible for a couple of reasons. First, I was relatively fresh. I hadn't done a lot of training in the past week as I was (and am) tired from last weekend. The aerobic system recovers quickly relative to the body, however. So, even though my body was still a little tired, I was able to maintain a slightly higher HR since my aerobic system was relatively fresh. Second, it was warm today. In hotter conditions, one's HR is often slightly elevated.
If we break the race into two halves, we can see that I started a bit on the fast side (for me). For the first half of the race, I averaged 183bpm, while for the second half my average HR was 179bpm. I hit my max of 193bpm about 20 minutes in, while passing some people on one of the sand runs. That effort cooked me a bit and afterwards I had to slow down to recover. My effort today netted me 7th place.
Here are some photos: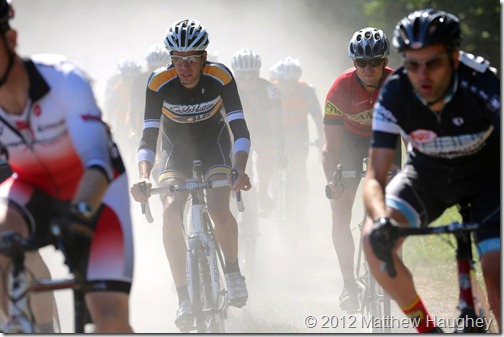 The start. I got the call-up, but dust makes me chicken.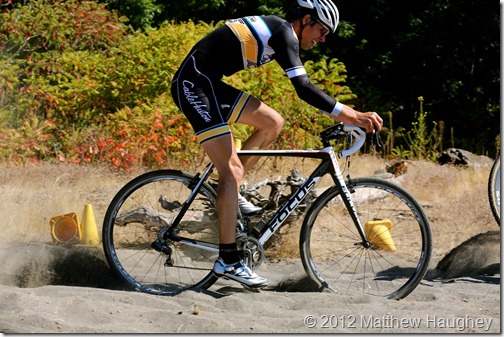 Sand surfing