The Lake
Today I raced my first cyclocross race of this season, the TBGP Het Meer race in Vancouver, WA. I made a day of it by riding out there, doing the race, and then riding home again. It was a cool, overcast day and perfect for cross (unless you like mud).
The race consisted of lots of straight, fast sections, followed by some twisty, fast sections, followed by a mean sand trap on a lake beach. The drop into the sand trap caught a lot of people off guard, resulting in some spectacular crashes. I managed to avoid them: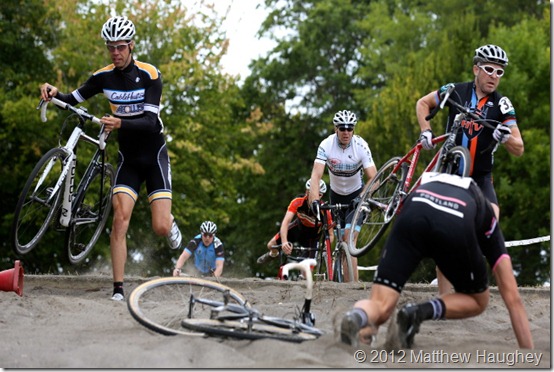 I'm on the left avoiding the unlucky fellow who is now going the wrong way.
Once I got into the groove, I was able to ride the sand without any trouble.
I've been having trouble focusing lately, but CX racing is a good place to put life out of your mind for an hour and just concentrate on what you are doing. This is what I look like when I concentrate: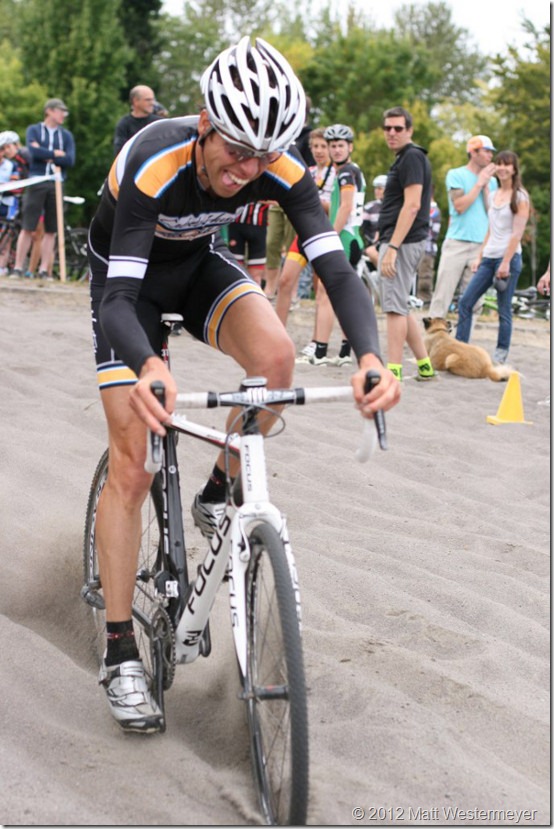 Notice the tongue (and the cute girl with the dog).
Despite all the craziness, I had a great race, ending in 5th place. I was able to start off within myself and finish strong, picking off one-by-one the riders ahead who had started too fast. I didn't have my Quarq on for this race, but I did record my speed and HR data. The graph shows a nice, steady cardiac drift. This is an example of good pacing. The red line is HR, with the dashed horizontal at my LT HR – 178bpm. Check it out:

red – HR
blue – speed
Despite a relatively open course, I was able to start easy, settle in right at my LT, and then push it up a bit in the last laps. This served me well and garnered me one of my best ever CX results – in the season's first race!