Data Analysis - Marathon MTB Nationals 2012
I have had a day or two to digest what happened last Saturday and I've finally had a chance to sit down and look at my data file as well.
It was a day where everything came together just right: The start was fast, but not too fast. The climbs suited my new lighter physique. The bike felt perfect and I was confident on the descents and singletrack. I had no mechanical issues. I had rested properly in the previous week. The distance and hot weather both suited me. I was able to stay focused for the entire 4+ hour effort.
All of those things are the ingredients of the perfect race. Together, they allowed me to do my best possible ride on the day. In terms of numbers, here is what that ride looked like: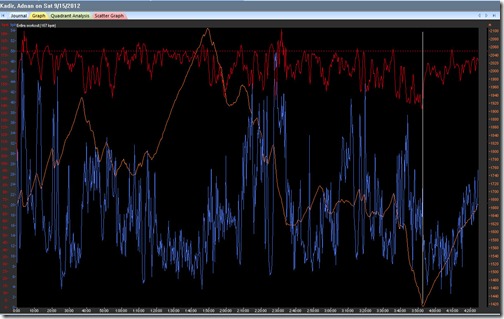 Click on the image to magnify. Red is Heart Rate, blue is speed, and orange is elevation data.
My LTHR (Lactate Threshold Heart Rate) is 178bpm, represented above with the red dashed line. This places my Threshold Level (also referred to as Level 4) at 169-188bpm. Theoretically I can ride at 178bpm for about 1 hour. On Saturday, the data shows ideal pacing over the duration of the race. I managed to average 167bpm for the entire distance, keeping my effort sustainable over that period.
The nature of MTB racing is such that there are often times when you must exceed your LTHR in order to clear an obstacle, or stay with a rider you need to stay with, etc. Several times I bumped up against my maximum HR of 194bpm, but my training has been such that I was able to recover and maintain a high pace. During the race, my HR never dropped below high Level 2 (Endurance), even on the descents. It was a consistent effort, and by the finish I was completely spent.
The last week has seen two great lessons in pacing in two very different types of events (see the post on last week's cyclocross race here). One event was short and intense, while the other required more endurance and the ability to focus for a very long time. Happily, both yielded great results!